LiveWire is Like having a bartender in your apartment. Without the liability.
Born behind bars.
created by bartenders.
livewire is a ready-to-drink cocktail that tastes better than what you get in most bars.
But don't just take our word for it 👇. Check out our reviews.
Shop All Collections
LiveWire is the only purchase you'll ever need for world-class cocktails at home and on the go. Forget buying five bottles of liquor just to make one cocktail.
LiveWire gives you perfect taste every time, and starts at just $4/serving.
Rated the world's best canned cocktail. twice.
LiveWire swept San Francisco Spirits Competition. Then it swept Beverage Testing Institute.
The judges had to taste over 800 cocktails to arrive at their decision.
We offer them our gratitude. And our condolences.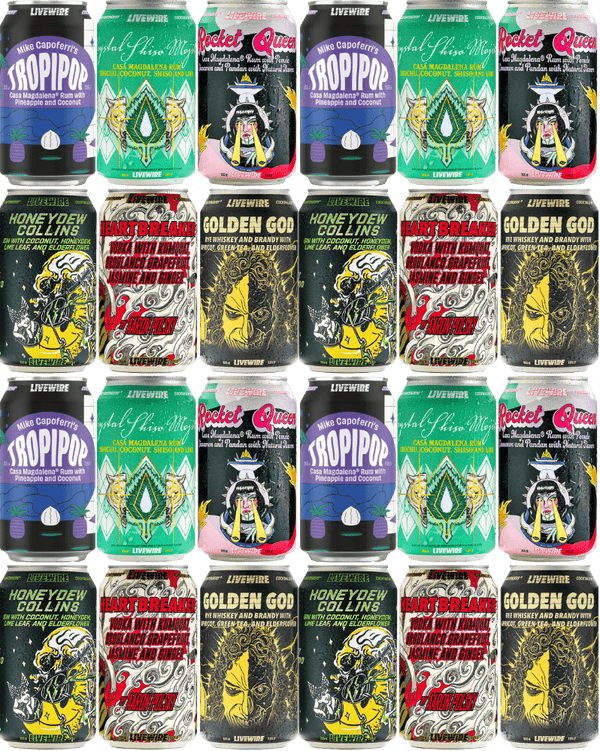 Ask us anything. Dig Deep.
🧪Does LiveWire contain any artificial ingredients?

Nope. LiveWire doesn't contain any artificial flavors, sweeteners, colors, or preservatives.
🍸What types of alcohol do you use?

We partner with top distilleries to supply our spirits.

Our Vodka is 100% American-made winter wheat neutral-grain spirit.

Our Gin is from House Spirits Distillery and is custom-made for us by the master distiller who founded Aviation Gin.

Our Rum is Casa Magdalena, a rum distilled in Guatemala and aged in Portland Oregon.

Our Straight Bourbon and Straight Rye are distilled and aged in Kentucky for a minimum of 2 years, though sometimes we pick barrels that are 3-years or older.
🍵Is there caffeine in LiveWire?

Golden God has a trace amount of naturally-occurring caffeine from the green tea (less than 0.075mg). All of our other cocktails are 100% caffeine-free.
⌛️What is the shelf-life of LiveWire?

The shelf life is technically 2 years for our cans. Our bottles have an unlimited shelf life.
🤭Will I like LiveWire?

We sure hope so!

We've been named the best at what we do by some of the world's most respected publications and competitions, including Consumer Reports, The Wall Street Journal, The Washington Post, Eater, New York Magazine, San Francisco World Spirits Competition, LA Spirits Awards, and Beverage Testing Institute.
😍Will I LOVE LiveWire?
🌭Does LiveWire pair well with food?

You bet!

Our culinary ingredients are inspired by cuisines from around the globe, so get creative!

Honeydew Collins is amazing with Thai food, Crystal Shiso Mojito is great with seafood, Heartbreaker is magical with sashimi, and Rocket Queen is awesome with Indian and Southeast Asian flavors.
🤰I'm pregnant. Can I drink LiveWire?
🚛Do you work with wholesalers?

We sure do. We partner with wholesalers who share our values and prioritize customer service. If you'd like to be a wholesaler, please send an email to info@drinklivewire.com.
❄️Does LiveWire need to be refrigerated?

We recommend drinking LiveWire chilled, either out of the can or over ice, but you can safely store it at room temperature.
📍How can I track my order?

You'll receive an email once your order is shipped with tracking info. If you're having trouble finding it, send us an email to info@drinklivewire.com and we'll help you out.
💔What should I do if I think my order was lost or damaged?

If you think someone is happily drinking your LiveWire somewhere across the country, or if someone Ace Ventura'd your package to your doorstep, send us an email to info@drinklivewire.com.
🧾What is your return and exchange policy?

Refunds on alcohol are illegal in most states, with certain exceptions made for defects. If you received product that was damaged or defective, or are otherwise unhappy, please reach out to info@drinklivewire.com and we'll see what we can do to help within the scope of the law.